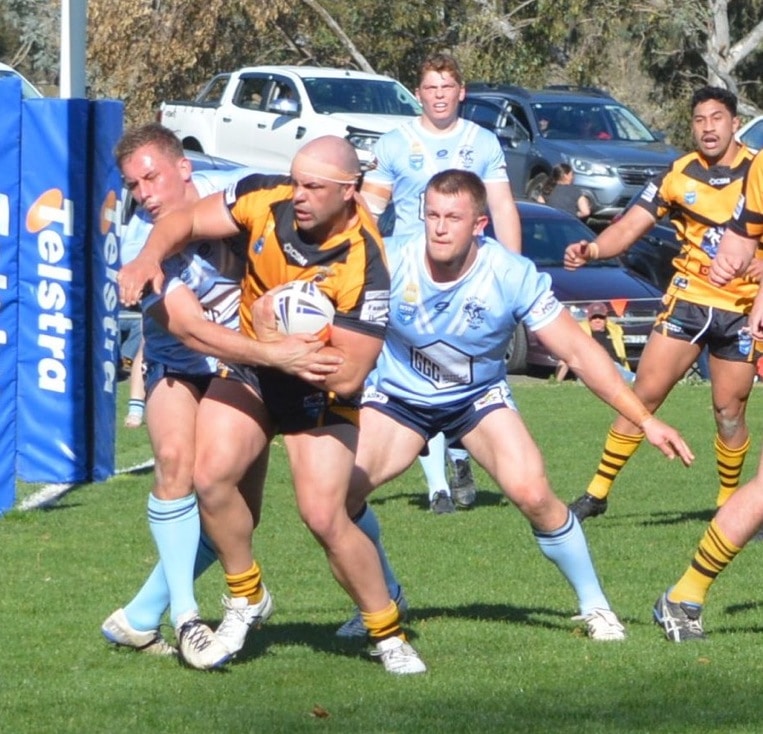 The Gundagai Tigers will arrive at Twickenham on Sunday as favourites to beat the Tumut Blues in round three of the Group 9 competition.
The Tigers ran riot when defeating Wagga Brothers 42-16 in round one before resting up with a bye in round two.
Gundagai captain/coach Luke Berkrey said the bye came at a good time for his players, as his Tigers went into their round one game without a trial.
"Yeah, there was that general soreness, especially going into round one without having a trial, so we were stiffer and sorer than normal, but the boys are keen and very ready to go for Sunday," Berkrey said.
Generally, a Tigers and Blues match would attract a lot of fanfare and general Group 9 chatter, but for Berkrey, he believed it was too early in the season to be caught up with results and he said his focus was on his playing group and beating the Blues in round three.
"Being so early in the season, there is too much to worry about with ourselves than thinking about the Blues or anyone else," Berkrey said.
"We just want to get out there and get a good result."
Still, the age-old rivalry will attract a big crowd to Twickenham, and the Tigers skipper admitted that both teams will be up for the contest.
"Both teams have a look for this game on the calendar, and very much look forward to it," Berkrey said.
"It doesn't matter who's out there; they will be looking forward to it, and I am not too worried about who's in either team, because all 34 blokes will be keen and wanting to win."
Following Gundagai's 40-18 grand final win over Tumut in 2020, the Blues defeated the Tigers in all three regular season games in 2021 before the season was called off prematurely before finals.
Despite their recent history, Berkrey said previous results meant nothing to him, with the Tigers forward and his new-look Gundagai squad ready and raring for a big game and big season.
"It's not in my thinking. I couldn't care less what's happened – I'm just worried about the future," Berkrey said.
"We have a different team and last season's results don't even cross my mind."
The Tigers have only made two changes to their side that belted Brothers in round one, with Chris Rainbow coming in for Joel Field in the front row, while Vaughn Scott replaces Braith Crane on the bench.
"Chris is in for Fieldsy and Vaughn is on the bench and he gives us that extra back up in our back line because we don't have that coverage," Berkrey said.
In stark contrast, the Blues will have their depth tested against Gundagai on Sunday, with Mitch Ivill, Zac Masters, Jacob Toppin and Joe Roddy all unavailable for selection.
Jed Pearce is back into the line-up though, and Blues captain/coach Lachlan Bristow hoped the big front rower added energy and spark to the Blues 2022 campaign.
"He is a huge pick up," Bristow said.
"He has been one of our main men for the last three years and having him out there, in whatever role he plays, is massive for us.
"His attitude is great and he gets everyone up on the field and that quality is irreplaceable."
As far as preparing for the local derby match against Gundagai, Bristow said his side was focused on the job at hand.
"I don't think that round two loss (against Brothers) hurts too much, but it can be a wake-up call, and it is similar to what happened last year (in round two against Kangaroos) and for us, it is only up from here," Bristow said.
It will be an action-packed day at Twickenham on Sunday, with four grades in action.
Kick off times
Under 18s: 11am
League tag: 12.10pm
Reserve grade: 1.20pm
First-grade kick off: 2.35pm